Stichting Jan Pietersz. Huis
For any student finding appropriate housing in Amsterdam is usually a big problem. The number of available rooms is too small and the rents are often frightfully high. Music students are no exception to this rule of shortage, and even present an extra problem. Indeed, they produce noise when at work, often not to the delight of their neighbours.
Since 1982 the Jan Pietersz. Huis Foundation is offering music students the opportunity to live in affordable, sound insulated rooms and flats enabling them to practice at home.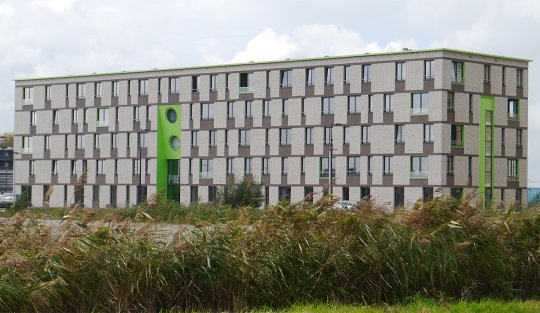 Otto Tausk
– chief-conductor Holland Symfonia
– chief-conductor Symphonie Orkest and Opera Theater Sankt Gallen, Switzerland
"The time I lived at the Kadijken –both the Tussen and the Hoogte- has been of crucial importance for my development both as a musician and a person. It did not only mean living in one of the nicest neighbourhoods of Amsterdam where I could practise freely; also the friendships with my house mates and fellow students of the conservatory have provided me with a great measure of attachment and of course the necessary distraction from time to time. Irreplaceable."

Banana Dog
– Linus Kleinlosen, alto saxophone
– Kristján Martinsson, piano/accordion/flute
– Andris Meinig, double bass
– Andreas Kühne, drums
"When 'the feeling' manifests itself, you experience its true nature. At these moments it is our special privilege to have a place to enjoy these through our instruments."

Bart van de Roer
– pianist Storioni Trio
– principal study teacher piano Conservatory of Rotterdam
– artistic leader Storioni Festival
"Following the exciting moment of my entrance exam it soon appeared that finding a room for a musician probably was a bigger challenge than the preparations for the admission. House owners and co-voting student house mates soon opt out when confronted with enthusiastic stories about your intention to study six hours a day on your grand piano… In the houses for conservatory student of the Jan Pietersz. Huis Foundation you will find understanding for each others' noise nuisance. Thanks to this Foundation I have been able to develop myself fully throughout my entire studies. It is in the interest of all future music students and the conservation of our rich Dutch musical life to fully support this valuable foundation!"

Raymond Munnecom
– bass trombonist at the Royal Concertgebouw Orchestra (since 1997)
– teacher (bass)trombone at the Conservatory of Amsterdam (since 1998)
"All in all I have rented living accommodation from the Jan Pietersz. Huis Foundation for more than seven years. I have especially fond memories of my years at the Hobbemakade. I have never relived that sense of freedom: you could practice as long as you liked, the whole day, you could do everything, receive friends, playing music together, etcetera. What a lovely time. Leaving Limburg and living together with other music students has been decisive for me in many aspects. As I said, I came from a very little circle, musically and socially. In Amsterdam, and more so in the house I lived in, I came into contact with a larger world. Not only in the professional sense, but also literally, because of the many foreign students amongst them."

Ramon Lormans (1984)
– marimba solist
– principal study teacher marimba Conservatory of Amsterdam (since 2008)
– artistic director Percussion Friends Talentclass & Summer Academy
– ensembles: Duo Sax & Stix, Lunapark, Podiumbeesten, duo Houdijk/Lormans
"Once accepted at the Conservatory of Amsterdam it turned out to be hard and almost unaffordable to find a room I could practice percussion. My first two addresses were therefore both illegal and temporary subleases and far from the city centre. In both cases the sublease was in a building of a social housing corporation, one close to Lelylaan Station, the other in Osdorp. When I, together with some fellow percussion students, was looking for accommodation, we soon learned that we better left our studies unmentioned, because of the perception we would cause nuisance. In the mean time I had heard at the Conservatory about the accommodations offered by the Jan Pietersz. Huis Foundation, but I had also understood there was always a long waiting list. The news that an expansion of the available housing stock of over forty units would be realised mid 2006, in one of the 'Berlage blocks' in the East of Amsterdam, however provided some hope. And I was lucky, I was accepted. I have lived and worked for several years like royalty in this two room apartment, with my own kitchen, own bathroom and a bedroom looking out at the central courtyard of the block. On top of that I could practice at home as a result of the sound insulation installed during the renovation. This is something which is hardly ever possible in any home. Not only was there a lot of understanding by the fellow inhabitants of the blocks for each others' noise nuisance, but the interaction and collaboration produced inspiring moments and have provided me a lot during my entire studies. I am still in contact with my neighbours from these years!"